How dangerous are distractions when it comes to car accidents?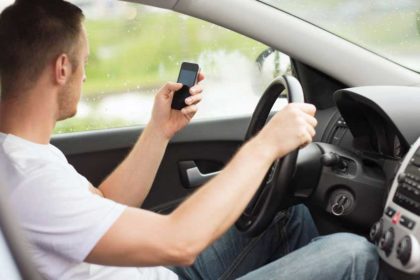 According to a research conducted by the University of Florida, even a single notification on your phone is a distraction and significantly impacts your ability to focus while driving. In fact, so immersive is the screen trap that people who are engrossed in their phones fail to see actual money hanging from trees, something that they tested in their research.
It would be not be a stretch to say that your brain on a cell phone is the same as your brain on alcohol, particularly when you are driving. In fact, police officers often pull over those who are texting and driving, because their on-road behavior is strikingly similar to that of drunk drivers.
The CDC confirms that all three types of distractions, mental, cognitive and visual, act on motorists using their cell phones for texting or any other purpose.
The shocking figures speak for themselves!
According to the CDC, nearly nine people die and over a 1,000 are injured each day due to distracted driving.
Over 25% of all vehicle crashes involve the use of cell phones, according to the National Safety Council (NSC).
In Kansas, general inattentiveness is responsible for nearly 25% of all crashes.
In 2017, 6 Kansans died and over 250 were injured in car accidents involving the use of cell phones.
The NSC also reported that drivers are 6 times more likely to cause a crash when texting than if they were drunk.
Every year, nearly 1.6 million motor vehicle accidents are attributed to texting, nearly turning this into the number one cause for on-road crashes.
80% of all car accidents result from distracted driving.
Which is the most dangerous type of distraction?
Distractions, whether they are inside or outside the car, can be separated into three categories, depending on which ability they influence:
Visual: These engage your sense of sight and prevent you from keeping your eyes on the road.
Manual: They engage your hands and physically make you let go off the wheel.
Cognitive: These occupy your mind and your brain and impact your ability to think and act quickly.
While some distractions are also auditory in nature, these ultimately end up impacting your cognitive abilities, so they can be added to the third category. Distractions of all types take your attention and focus away from the road and endanger the lives of everybody around you.
However, of the three, cognitive distractions are the most dangerous, resulting in a massive 62% of all car accidents. What makes cognitive distractions so dangerous is that they can be all-consuming, taking all of your attention away from the task at hand. In fact, these can make you forget that you are in the car and on the road.
Another reason for the high-risk rate associated with cognitive distractions is that ultimately visual, auditory and manual distractions also engage the mind. What results is undoubtedly a cognitive distraction!
What makes the use of cell phones and texting so dangerous?
The mother of all distractions: As if any one type of distraction is not dangerous enough, texting uses up all your mental resources plus your visual and manual capacity. Simply put, the single act of texting is all three types of distractions rolled into one.
Distracting in every way: Even if you are using your cellphone in hands-free mode, you are allowing the device to engage your auditory sense as well as your mind. In regular mode, of course, you will also be using your hands to dial numbers and to access other phone functions. In a nutshell, distractions abound when you are using a cell phone in any way.
The new drunk driving: Distracted driving is very similar to drunk driving, not only in terms of the extent to which it occupies your attention, but also in terms of its addictive abilities. As a matter of fact, if you get away with distracted driving once, you are more likely to do it again just like driving while intoxicated.
An addictive danger: That distracted driving remains rampant is evident from the results of a CBS survey in which nearly 35% of all respondents admitted to using their phones while driving, and this was despite being fully aware of the dangers of doing so.
The dangers of texting when driving!
Another problem with using your cell phone while driving is that all factors that can distract you, whether it is texting, calling or browsing, not only take up the maximum amount of your attention, but also keep you distracted for a longer period of time.
Most motorist are lured into texting while driving by the misconception that it will only take a few seconds to send out a message. In reality, even a single word message takes about 23 seconds to send.
Consider, it takes 3 seconds of inattention to get into a car crash. In fact, when you are driving at 50 mph, not paying attention for just 5 seconds is akin to driving across a football field with your eyes closed. If you are doing 70 mph, that is the equivalent of two football fields. Those 23 seconds can be the difference between life and death!
Others have to pay the price for the risky behavior of one motorist!
According to Virginia Tech Transportation Institute, using a cell phone in any manner increases the risk of causing/being in a motor vehicle accident by three times. But statistics are even more grim for commercial vehicle drivers. Commercial drivers face a significantly higher risk of getting into a crash or near crash event, over 23 times higher than that of drivers who are not distracted.
Unfortunately, the consequences of being in a crash with a large and heavy commercial vehicle are greater, and more likely to cause a fatality especially when involving comparatively smaller passenger vehicles. Similarly, texting while driving keeps these motorist's eyes off the road for 400% more time. This explains the 23 times higher risk of causing accidents among such drivers.
Although teens are the highest risk age group when it comes to distracted driving, people in their thirties are implicated just as frequently in incidents of distracted driving. Despite the blatant disregard for the wellbeing of others on the part of distracted drivers, expect their insurance companies to side with them just so they don't have to pay you. If you or a loved one are involved in a car crash with a driver who was not focused on the road, you may have the right to seek compensation.
DeVaughn James Injury Lawyers is committed to ensuring that the insurance company treats you fairly and you receive rightful restitution. We firmly believe that you should not have to pay for the negligent acts of others. Contact us today so that our experienced and skilled attorneys can ensure that you get nothing less than the fair compensation you deserve.